With our dynamic web design services you get full control of a fine-tuned, functionally rich, interactive website.
We believe every customer is different and has different needs, either they own a startup company or a well established business. At M2solutions our Job is to identify precise customer requirements and recommend them an effective and affordable solution.
Dynamic Website design can be simple or complex depending on the customer's design / development needs / requirements. We would work more closely with our customers to identify their design element requirements and accordingly we would create initial layouts (HTML & CSS) / Logos. Once initial Layout is approved by the customer we would convert this to dynamic. After this, we would configure Meta Tags, Admin Panel and other security / website backup in order to make sure the website works without any errors. Once everything is setup, we would do Browser compatibility testing, User Interface (UI) Testing and do an entire website assessment and audit.
Dynamic website page designing requires experienced programmer and creative designers team with good knowledge, our professionals are the master and mentor at their own who can design and develop dynamic website using different scripting language, preferably PHP/Mysql and make your website good looking.
We also have options for Responsive and non Responsive Dynamic Web Designs. Our preference and recommendation is Responsive Design in order to make the website compatible with Mobile Devices, Tablets and different Screen Sizes.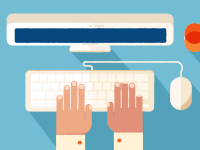 ---
Few Advantages Of Dynamic Websites:-
1) Easily accessible Control panel / Admin panel for making all kind of changes.
2) Better user engagement due to advanced search and filter options.
3) Regular content update viewed favorably by search engines.
4) Lower bounce rates as visitors enjoy better user experience.
5) Integration of advanced features like eCommerce, online chat etc.